Scenario Lifecycle¶
Contents:
Note: This document is still work in progress.
2. Generic Scenarios¶
Generic scenarios provide a stable environment for users who want to base their products on them.
Generic scenarios provide a basic combination of upstream components together with the superset of possible mature features that can be deployed on them.
Generic scenarios should be supported by all installers.
All generic scenarios in a release should have the same common major versions of the included upstream components. These upstream versions can then be seen as the upstream versions for the release. E.g. that way we can say: "OPNFV xxx contains OpenStack abc, ODL def, ONOS ghi, OVS jkl". But most installers cannot directly reference any upstream version. This may lead to minor differences. Nevertheless features and test cases require all installers using the same major versions.
Generic scenarios should use stable sources and lock the versions before the release by either pointing to a tag or sha1. According to the LF badging program it should be possible to reproduce the release from source again. Thus the upstream repos should be in safe locations. Also only tagged source versions should be used for the release, so the release can be reproduced identically for different purposes such as reproducing a baug reported by users and issuing the fix appropriately, even after the upstream project has applied patches. .. Editors note: There is discussion ongoing in INFRA and SEC working groups how .. to realize this. Thus the description is still a bit vague. Details will be .. added later either here or in some INFRA document.
Generic scenarios should be stable and mature. Therefore they will be tested more thoroughly and run special release testing so a high level of stability can be provided.
Generic scenarios will live through many OPNFV releases.
More resources will be allocated to maintaining generic scenarios and they will have priority for CI resources. .. Editors note: Discussion ongoing in INFRA about toolchain issues.
Note: in some cases it might be difficult for an installer to support all generic scenarios immediately. In this case an exception can be defined, but the installer has to provide a plan how to achieve support for all generic scenarios.
Note: in some cases, upstream projects don't have proper CI process with tagged stable versions. Also some installers' way of working doesn't allow selecting the repo and tag. Thus a stepwise approach will be necessary to fulfill this requirement.
3. Specific Scenarios¶
Specific scenarios are used for OPNFV development and help to isolate a path of development.
Specific scenarios typically focus on a feature or topic.
Specific scenarios allow to advance in development for their main feature without de-stabilizing other features.
Specific scenarios provide additional flexibility in their handling to allow the development be agile.
Specific scenarios can use new version of their main upstream component or even apply midstream patches during OPNFV deployment, i.e. the deployable artifact is created via cross community CI or even only in OPNFV and not upstream.
Specific scenarios should have a limited life time. After a few releases, the feature development should have matured and the feature made available different configurations if possible. Typically the scenario then should be merged with other scenarios, best with generic scenarios.
Normally specific scenarios will be released within the major OPNFV releases. But they don't need to fulfill maturity requirements (stable upstream versions and repos, stability testing), and can deviate in the used upstream versions.
In exceptional cases we might release a specific scenario independently, in case there is a need. Thus specific scenarios provide a way to a more DevOps-like process.
Specific scenarios will likely have a shorter support period after release as they are of interest to a smaller user community vs generic scenarios.
They will be granted less CI resources than generic scenarios, e.g. for periodic CI jobs.
We may need to prioritize resources post-release for maintenance / regression testing.
4. Parent - Child Relations¶
In many cases, development adds a feature to an existing scenario by adding additional components. This is called creating a child scenario from a parent.
Parent scenarios typically are more stable than children.
Children should plan to merge their feature back to the parent.
Merge back will often add components to the parent.

Child scenarios can be part of releases.
Child scenarios should merge back to their parent after 2 releases.
If a child scenario lives through several releases, it might be desirable to "rebase/cherrypick" a child scenario to follow changes in the parent scenario.
Child scenarios typically support a smaller number of deployment options than their parent
Child scenarios are specific scenarios. Parent scenarios can be generic or specific scenarios.
Child scenarios can be created any time. If they want to join a release, they have to be created before MS0 of that release.
4.1. Siblings¶
In some cases it could make more sense to create a sibling rather than a child (e.g. if expected that merging back to parent will be difficult). In other words, the content of a child scenario will be incompatible with content of the parent scenario. In that case, the child scenario should rather become a new branch instead of merging back to the parent.

Typically the sibling uses alternate components/solutions than the parent – in long term it might evolve into a new generic scenario, that is a new branch in the scenario tree.
Creation of the sibling shall not be gated. It should be covered in the scope of an approved project, so there cannot be too big surprises.
But at a certain time the new scenario will want to change its status from a specific scenario to a generic scenario. This move will need TSC approval. For the application, the scenario owner shall demonstrate that the scenario fulfills the requirements of a generic scenario (see later).
Examples: SDN controller options, Container technologies, data plane solutions, MANO solutions.
Please note that from time to time, the TSC will need to review the set of generic scenarios and "branches" in the scenario tree.
7. MANO Scenarios¶
Since OPNFV organizes all deployments using scenarios, also MANO components need to be covered by scenarios.
On the other side all NFVI/VIM level scenarios need to be orchestrated using a set of components from the NFVO and VNFM layer.
The idea here is therefore to specify for a MANO scenario:
The MANO components to deploy
A list of supported NFVI/VIM level scenarios that can be orchestrated using this MANO scenario.
The MANO test cases will define the VNFs to use.
MANO scenarios will have more work to do if they require new nodes to be deployed on. They should include this aspect in their resource planning/requests and contact Infra/Pharos in case that a change of the Pharos spec is needed and new PODs need to be made available based on the amended spec.
More details need to be investigated as we gain experience with the MANO scenarios
8. Current Status¶
This chapter summarizes the scenario analysis to provide some background. It also defines the way to introduce the scenario processes.
9. Scenario Descriptor Files¶
9.1. What are Scenario Descriptor Files?¶
Every scenario is described in its own descriptor file. The scenario descriptor file will be used by several parties:
Installer tools will read from it the list of components to be installed and the configuration (e.g. deployment options and necessary details) to use.

The dynamic CI process will read from it the prerequisites of the scenario to select the resource that has the needed capabilities for the deployment. It will also select the installer from the list of supported installers and the other deployment options as supported in their combination.

The dynamic CI process will provide the installers with the deployment option to use for a particular deployment.

The scenario owner needs to provide the descriptor file.

When compiling it the scenario owner typically needs to work together with the installers, so the installers will support the required components and options.

The testing framework can read from the scenario descriptor file necessary information to know which features can be tested on the scenario.

The scenario descriptor file will also contain some maintenance information
9.2. Structure of the file¶
The scenario descriptor file is a yaml file. The syntax will allow to specify additional descriptor files, to make it better readable or structure common configurations across multiple scenarios.
The file has following main sections:
metadata (owner, history, description)
list of components (names, versions, submodules)
deployment options (HA/NOHA, hardware&virtualization, installers, including possible combinations and necessary details)
other prerequisites (e.g. memory requirement more than pharos spec)
list of features to be tested
More information to be provided in next version of this document. The file will be defined based on the installer-specific files for scenario specification used by the 4 installers in Danube release. Thus it will be made sure that the information needed by the installers will be covered.
All scenario files will be stored in a central repo, e.g. Octopus. There will also be a commented template to help create scenario descriptor files.
9.3. Metadata¶
In Danube timeframe only Fuel installer has some metadata in the descriptor file. The new template contains:
Unique name

This is a free name, there is a recommendation to take fish for names, matching OPNFV release naming with rivers.

A free text title

This should be a short descriptive text telling the main purpose

A version number for the descriptor file

Three digits, separated with dots, as used by Fuel in Danube

Creation date

Comment

The file should contain a clear description of the purpose of the scenario, including the main benefits and major features. If applicable, the parent scenario should be mentioned.

First OPNFV version to use the scenario

Author/Owner

A list of additional contact persons, e.g. from installers or major components
9.4. Components¶
In this section all components are listed together with their version. For some components in addtion submodules can be listed.
More details will be added.
9.5. Deployment options¶
This section will list the supported deployment options. In each category at least one option must be supported.
hardware (cpu) types (intel or ARM)

Virtualization (bare-metal or vPOD)

availability (HA or NOHA)

This subsection needs to specify also what does an HA deployment need, e.g.:
availability:

  - type: HA
      nodes:
        - name: host1
          roles:
            - openstack-controller
            - odl
            - ceph-adm
            - ceph-mon
        - name: host2
          roles:
            - openstack-controller
            - odl
            - ceph-adm
            - ceph-mon
        - name: host3
          roles:
            - openstack-controller
            - odl
            - ceph-adm
            - ceph-mon
        - name: host4
            - openstack-compute
            - ceph-osd
        - name: host5
            - openstack-compute
            - ceph-osd
  - type: NOHA
      hosts:
        - name: host1
          roles:
            - openstack-controller
            - odl
            - ceph-adm
            - ceph-mon
        - name: host2
            - openstack-compute
            - ceph-osd
        - name: host3
            - openstack-compute
            - ceph-osd

deployment tool (apex, compass, fuel, daisy, joid)

In the section for each deployment tool, the combinations of the first three options have to be listed, e.g.:
deployment-tools:

  - type: fuel
       cpu: intel
       pod: baremetal
       availability: HA
  - type: fuel
       cpu: intel
       pod: virtual
       availability: HA
  - type: fuel
       cpu: intel
       pod: virtual
       availability: NOHA

Please note that this allows easy definition of other availability options including scaling and redundant configuration of SDN controllers.
9.6. Prerequisites¶
This section will list additional prerequisites. Currently there is only one case where a scenario has additional prerequisites to the Pharos spec. E.g. a component could requires more RAM on the nodes than defined in Pharos spec. In general it should be preferred to issue such requirements to pharos using the pharos change request process, but in some cases in might be better to specify additional prerequisites.
Another use case for these prerequisites will be usage of specilized hardware, e.g. for acceleration. This needs further study.
The section can be empty or omitted.
9.7. Testcases¶
This section will provide information for functest and yardstick to decide on the proper test cases for the scenario.
More details will be added.
10. Workflows¶
10.1. Summary¶
The general principle can be summarized by the following diagram: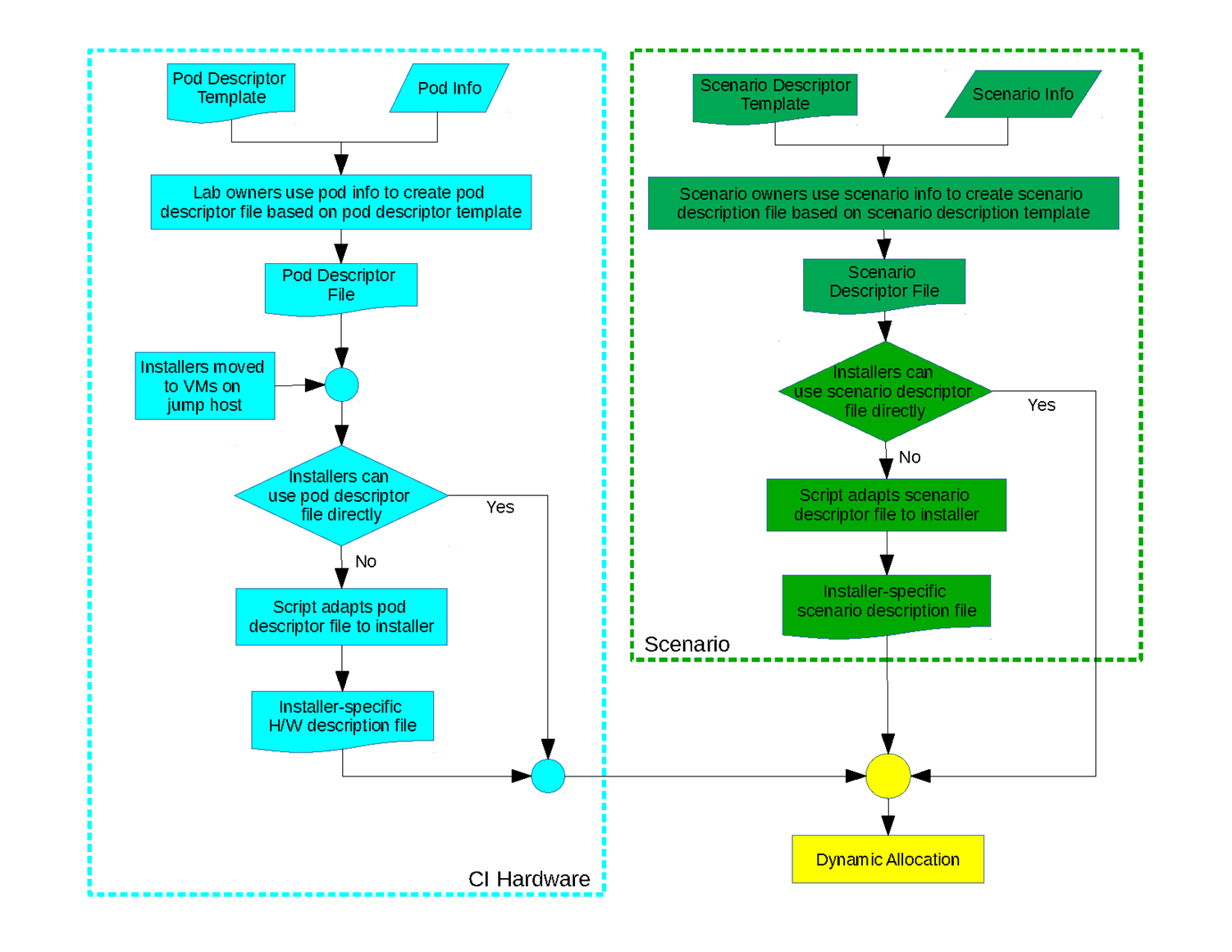 10.2. Workflows for Scenario Owners¶
The scenario owner creates the descriptor file based on the template.
10.2.1. Create new scenario from scratch¶
This workflow will be exceptional. Most scenarios can easier start as children of an existing scenario; thus the author (scenario owner) can derive the SDF from the parent. But scenarios introducing new technologies affecting the whole architecture, e.g.containers, or higher level scenarios (e.g.MANO and Multisite which reference existing scenarios) can start without a parent.
The following steps need to be done:
(Project team) Define set of components that need to be deployed
(Project) Find installers that can deploy the components
(Project&installer&CI) Agree on new keywords in SDF (e.g. component, feature name)
(Project) Assign owner
(Owner) Edit SDF, submit to octopus repo
(Owner) register scenario to participate in release as appropriate
(Owner&CI-team) Adapt jenkins triggers, so new scenario can be scheduled in valid installer/POD/Options combination(s).
(Installer-team) test deployment of components
(Project-team) Define test cases; register in test db
10.2.2. Create child scenario by adding feature to existing scenario¶
10.2.3. Add additional installer to a specific scenario¶
10.2.4. Add additional hardware or availability option to a scenario¶
10.2.5. Merge child scenario back to parent¶
10.2.6. Promote specific scenario to generic scenario¶
10.2.7. Introduce SDF for existing Danube/Euphrates scenarios¶
10.3. Workflows for Installers¶
10.4. Workflows for CI Tools¶