3.

High Level Architecture¶
3.1.

Introduction¶

The Anuket Kubernetes Reference Architecture (RA) is intended to be an industry standard independent Kubernetes reference architecture that is not tied to any specific offering or distribution. No vendor-specific enhancements are required in order to achieve conformance to the principles of Anuket specifications; conformance is achieved by using upstream components or features that are developed by the open source community. This allows operators to have a common Kubernetes-based architecture that supports any conformant VNF or CNF deployed on it to operate as expected. The purpose of this chapter is to outline all the components required to provide Kubernetes in a consistent and reliable way. The specification of how to use these components is detailed in Chapter 04.

Kubernetes is already a well documented and widely deployed Open Source project managed by the Cloud Native Computing Foundation (CNCF). Full documentation of the Kubernetes code and project can be found at https://kubernetes.io/docs/home/. The following chapters will only describe the specific features required by the Anuket Reference Architecture, and how they would be expected to be implemented. For any information related to standard Kubernetes features and capabilities, refer back to the standard Kubernetes documentation.

While this reference architecture provides options for pluggable components such as service mesh and other plugins that might be used, the focus of the reference architecture is on the abstracted interfaces and features that are required for telco type workload management and execution.

Chapter 5 of the Reference Model (RM) describes the hardware and software profiles that are descriptions of the capabilities and features that the Cloud Infrastructure provide to the workloads. As of v2.0, Figure 5-3 in the RM (also shown below) depicts a high level view of the software profile features that apply to each instance profile (Basic and Network Intensive). For more information on the instance profiles please refer to RM Chapter 4, section 4.2.4.
Figure 5-3 (from RM): NFVI softwareprofiles
In addition, the RM Figure 5-4 (shown below) depicts the hardware profile features that apply to each instance profile.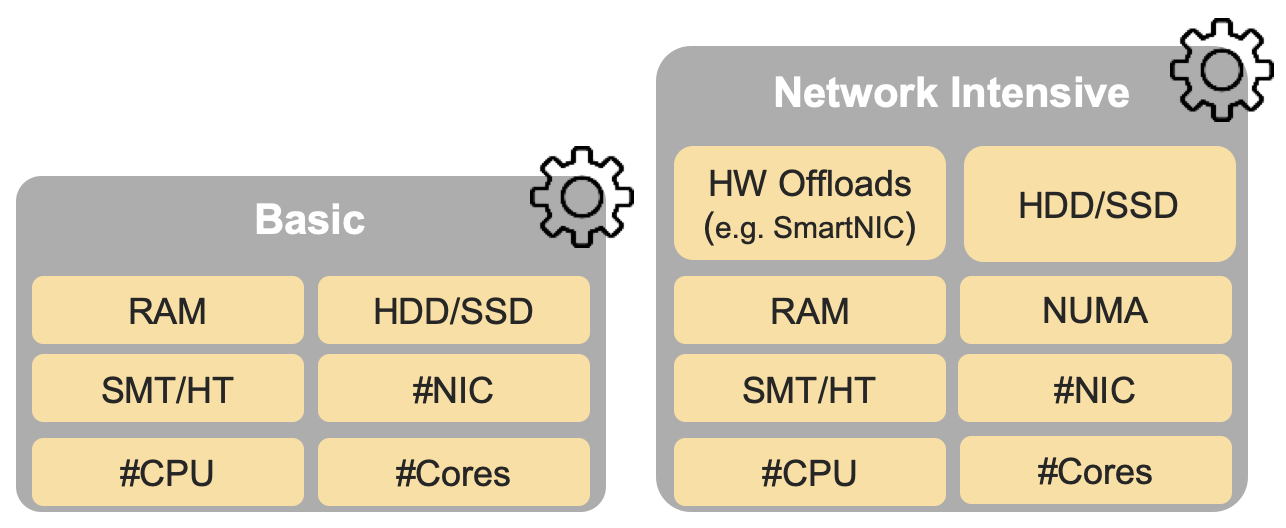 Figure 5-4 (from RM): NFVI hardwareprofiles and host associated capabilities
The features and capabilities described in the software and hardware profiles are considered throughout this RA, with the RA requirements traceability to the RM requirements formally documented in chapter 2, section 2.2 of this RA.
3.2.

Infrastructure Services¶
3.3.

CaaS Manager - Cluster Lifecycle Management¶
Note: detailed requirements and component specification of cluster LCM are out of scope for this release.
In order to provision multiple Kubernetes Clusters, which is a common scenario where workloads and network functions require dedicated, single-tenant Clusters, the Reference Architecture provides support for a CaaS Manager, a component responsible for the Lifecycle Management of multiple Kubernetes Clusters. This component is responsible for delivering an end-to-end life cycle management (creation and installation, scaling, updating, deleting, etc., of entire clusters), visibility and control of CaaS clusters, along with verification of security and compliance of Kubernetes clusters across multiple data centres and clouds. Specifically, the scope of the CaaS Manager includes:
Infrastructure (Kubernetes Clusters) provisioning

LCM of control/worker VM nodes - via IaaS API

or Baremetal provisioning for physical nodes

Control plane installation (i.e. Kubernetes control plane components on the nodes)

Node Host OS customisation (e.g. Kernel customisation)

Management of Cluster add-ons (eg CNIs, CSIs, Service Meshes)
The CaaS Manager maintains a catalogue of clusters templates, used to create clusters specific to the requirements of workloads, the underlying virtualisation provider and/or the specific server hardware to be used for the cluster.
The CaaS manager works by integrating with an underlying virtualisation provider for VM-based clusters, or with Bare Metal management APIs for physical clusters, to create Cluster nodes and provide other capabilities such as node scaling (e.g. provisioning a new node and attaching it to a cluster).
A CaaS Manager leverages the closed-loop desired state configuration management concept that Kubernetes itself enables. Meaning, the CaaS Manager takes the desired state of a CaaS Cluster as input and the controller must be able to maintain that desired state through a series of closed loops.