5. Measuring Telco Traffic and Performance KPIs¶
This section will discuss the SFQM features that enable Measuring Telco Traffic and Performance KPIs.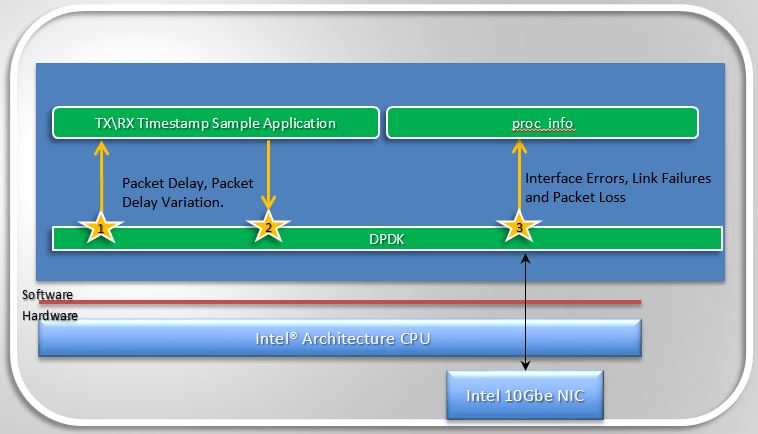 The very first thing SFQM enabled was a call-back API in DPDK and an associated application that used the API to demonstrate how to timestamp packets and measure packet latency in DPDK (the sample app is called rxtx_callbacks). This was upstreamed to DPDK 2.0 and is represented by the interfaces 1 and 2 in Figure 1.2.
The second thing SFQM implemented in DPDK is the extended NIC statistics API, which exposes NIC stats including error stats to the DPDK user by reading the registers on the NIC. This is represented by interface 3 in Figure 1.2.

For DPDK 2.1 this API was only implemented for the ixgbe (10Gb) NIC driver, in association with a sample application that runs as a DPDK secondary process and retrieves the extended NIC stats.
For DPDK 2.2 the API was implemented for igb, i40e and all the Virtual Functions (VFs) for all drivers.
For DPDK 16.07 the API migrated from using string value pairs to using id value pairs, improving the overall performance of the API.
6. Monitoring DPDK interfaces¶
With the features SFQM enabled in DPDK to enable measuring Telco traffic and performance KPIs, we can now retrieve NIC statistics including error stats and relay them to a DPDK user. The next step is to enable monitoring of the DPDK interfaces based on the stats that we are retrieving from the NICs, by relaying the information to a higher level Fault Management entity. To enable this SFQM has been enabling a number of plugins for collectd.